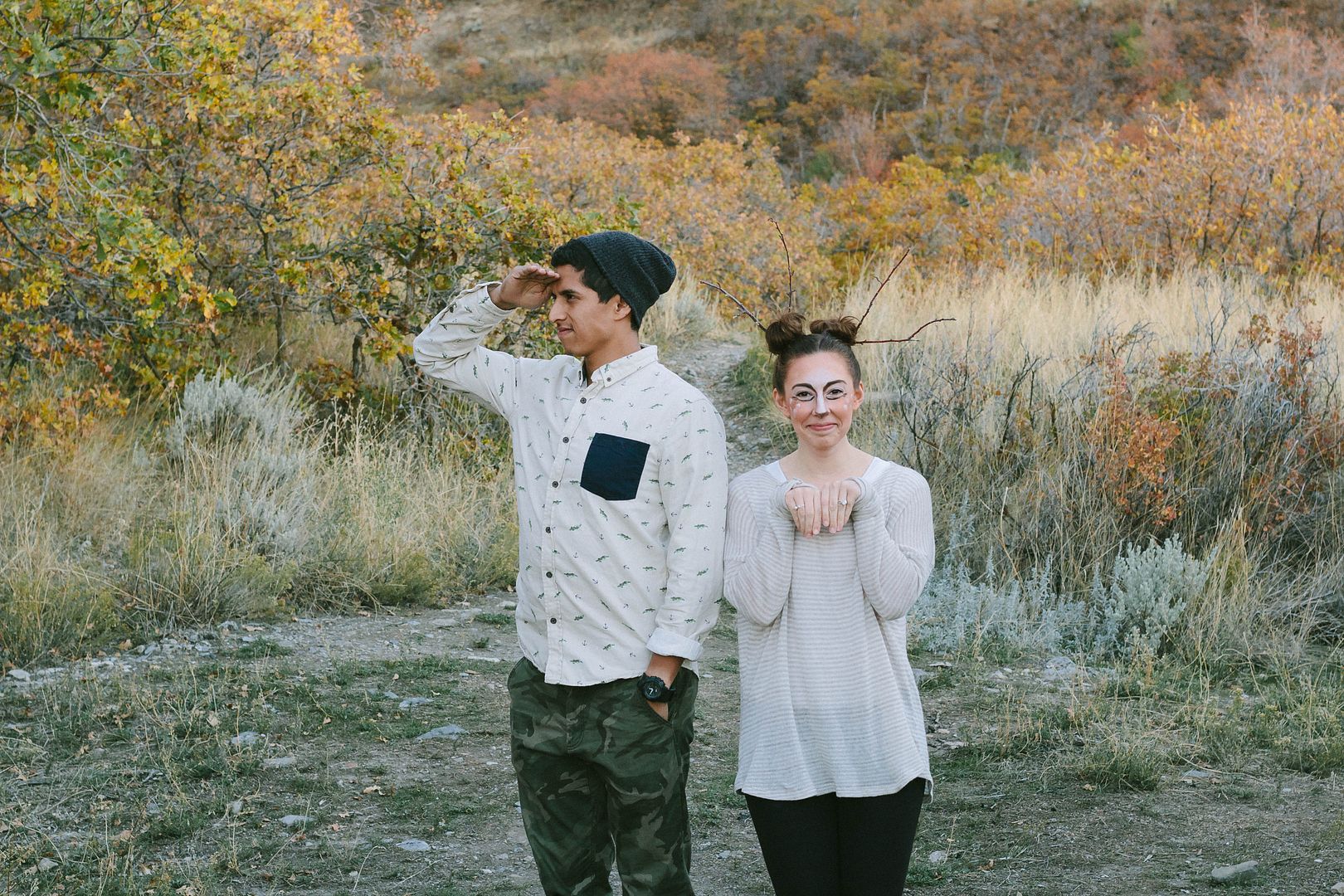 Isaac and I definitely aren't the biggest Halloween fans. Last year, we were the man in the yellow hat and Curious George. We spent over two hours making the costumes, went to shoot some zombies at the corn maze, found out they were closed, stopped by an outdoor dance, decided that wasn't our scene anymore. took a picture, went back to my apartment, and cuddled. Yeah...so we're super into Halloween.
This year we were invited to a couple's Halloween party and so we decided to at least give it a try. I dressed up as a deer, which is kind of ironic because I am terrified of deer. Absolutely terrified. Isaac was supposed to be a hunter, so he wore his fish shirt and his camo pants. Boom, hunter.
Brief story from the party...A couple at the party was in charge of a game for all of us to play. They ended up buying a bag of candy corn and making up the game on the way. Here is how to play: You place a single candy corn in between your butt cheeks, walk across the room, and release the candy corn from your cheeks into a cup. How fun is that!!
Each couple was a team. We got one point for each individual of our team that dropped it in the cup and two points if we succeeded as a couple with the candy corn in between our backs. My friend Aubrey was the first person to get it, and it was a miracle because she was Napoleon Dynamite and her jeans were tight. When I was up to bat, I stepped out onto the porch to put the candy corn in place, because I didn't want anyone watching me touch my own butt! I walked over on tippy toes, squeezing my butt as hard as I could, turned around, and, without looking, released it right into the cup! I nailed it. Then, Isaac and I went as a team with the candy corn in between our backs, and we nailed that too! Three points!
There were three couples that tied in the end with three points, so there was a tiebreaker. We had to put the candy corn in between our foreheads and walk over to drop it in the cup. Isaac and I were doing fine the first couple of steps, but then I took a misstep and lost my balance. We both fell to the ground, like a tree, with the candy corn in between our foreheads. Our feet had stayed in the same place and our bodies had just tipped right over! At the last second, on our way down, we tried to fling the candy corn at the cup, but it didn't work. We lost! That's okay, it was the best game of my life and I got to eat a chocolate donut!
Hope you all had a happy halloween!